posted by Ashley Boyer
recipe by Chocolate Covered Katie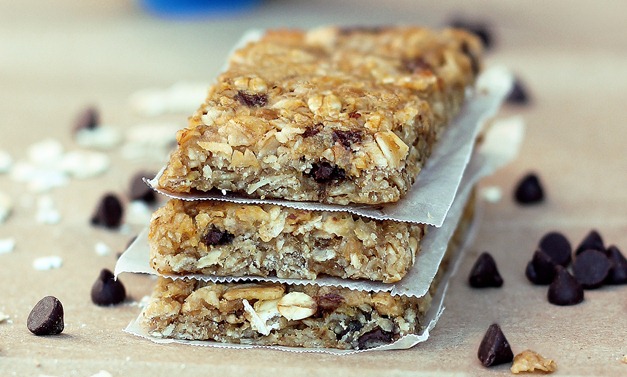 1 cup rolled oats
1/4 tsp baking soda
1/4 cup plus 2 tbsp oat flour (or you could use spelt, whole wheat, regular flour)
1/4 tsp salt
1/2 tsp pure vanilla extract
2 tbsp coconut oil or veg oil (I used coconut oil)
1/4 cup honey
1-2 tablespoons brown sugar (I used 1 Tbsp maple sugar)
2 tbsp applesauce (banana would probably work as well, or pumpkin!)
Ideas for the add-ins: mini chocolate chips, chopped raisins or other dried fruit, shredded coconut, chopped walnuts, etc.
Preheat oven to 350 F. Combine all dry ingredients and mix very well. (If you don't have oat flour: simply grind rolled oats in a food processor to make oat flour. Be sure to measure the correct amount of flour for the recipe after grinding, not before.)
In a separate bowl, combine wet ingredients. Stir wet into dry and use another sheet of parchment (or wax) paper to squish evenly-coated mixture into a parchment-lined 7×5 pan (or double the recipe for a 9×13). Squish very, very hard. Cook 15-18 minutes, then squish very hard again. Cool in the fridge for at least ten minutes before cutting into bars.